Portals offer a simple and beautiful way to access a curated set of assets and brand guidelines.
Login and account creation
If your administrator has not secured your portal (you do not receive a login screen), you may skip this section.
Logging in
To log in, use your NetX username, rather than the email address associated with your account (unless they are one and the same). If you do not remember your username but are sure you have a pre-existing account, contact your site's administrator rather than creating a new account.
On the login screen, enter your username and password.
Once you have filled in your username and password, click the Sign in button. If one or both of your login credentials are incorrect, you will be prompted with a message above the username field which will say Incorrect login. Please try again. and you will have the opportunity to retype both fields.

Resetting your password
If you are having trouble logging in because you have forgotten your password, click the Forgot password? link.
Input the username associated with your account, then click Send reset email. Completing and submitting this form will send a reset link to the email address associated with your NetX username.
Registering an account
If your site's administrator has enabled self-registration through your portal and you have not yet created or been given account credentials, use the Register account link at the bottom of your login screen. If this link is not present, contact your NetX site administrator to create an account for you.
To register a new account, use the Register account link.
In the Register account form, fill out personal information (first name, last name) as well as an email address to be linked to your account. Next, create a unique username and password. By default, passwords must be seven characters long but your NetX administrator may have configured further password strength settings on your site.
When finished, click Create account.
The homepage
Your portal will be made up of various pages that display assets, folders, and collections from your NetX library. Below is an example of a portal homepage, with a brief description of static portal elements.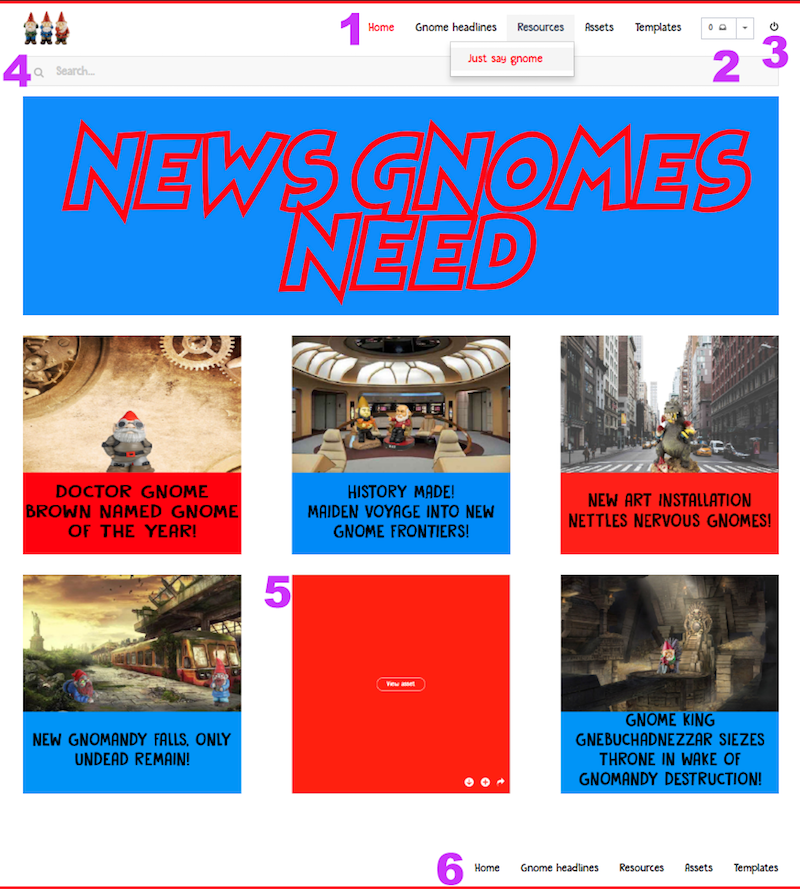 Navigational header: From this header bar, you can navigate through the various content contained within your portal, including asset galleries, links to certain assets, external links, and contact forms, depending on the needs of your organization. Some of these links may be drop-down menus, revealing more navigational items. Note that if your header contains a Templates tab, your portal is configured with NetX's AdBuilder product. For more information on how to use AdBuilder from your portal, see our documentation.



When viewing on a mobile device, header links will be displayed under the Pages submenu.

Collections: From this drop-down, you will be able to access any collections you may already have saved as well as any other collections which may have been shared with you by another user. If you have an active selection, the number of assets currently in your selection will update here.




Log out: This icon will allow you to log out of your portal before your session has expired. Note that your administrator may have set a unique logout URL which will redirect you upon selecting the logout action, rather than taking you back to the login screen.


Search: From here, you may perform basic single or multi-word keyword searches through your portal. Suggestions will display as you type; these are clickable and a search will begin if an item is selected from the subsequent drop-down.


Hover actions: Hovering over any asset in your gallery will allow you to see several actions you may perform on the selected asset. From these hover actions, you may be able to view, download, select, or share the asset in question, depending on your administrator's settings. Note that if your user level is not high enough to perform any of these actions, that option will be dimmed and you will not be able to perform that action.


Footer: A footer will appear on all of your portal pages, and will mirror your menu header.
Contact
If a Contact option is present in your portal header, you will be able to fill out a short form which will be sent to your portal's administrator. The only required fields will be subject, and message, but you may also input your email address into the email from field so your administrator may reply to your inquiry. Check cc yourself to send a copy of your message to yourself.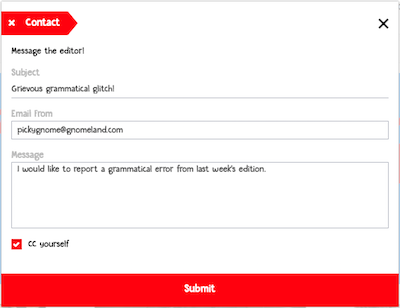 Gallery views and the assets tab
Asset galleries will not only allow you to view your portal's assets but also sort, filter, and perform actions on these assets. One of the ways to access a gallery is via the Assets tab if it is present in the header or footer of your portal; they may also be found while accessing collections or via folder block icons.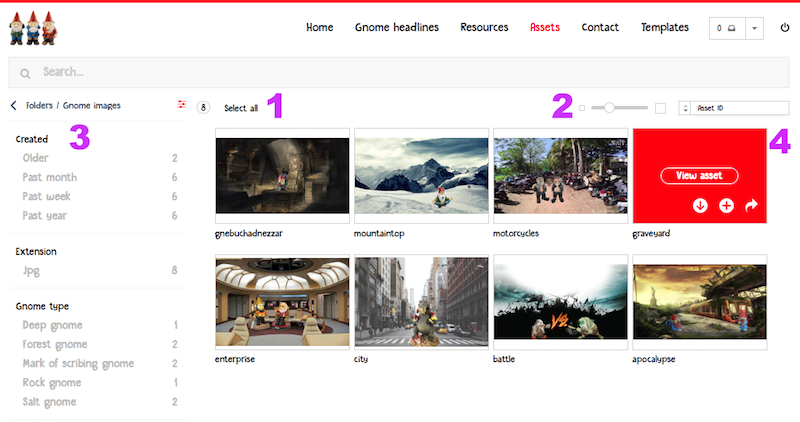 Action header, left to right:

Breadcrumbs allow you to navigate through your portal folder structure, with each folder separated with a / . If the folder tree is multiple layers deep, you may only see a ... between slashes, which will be a revealing a clickable folder tree drop-down. To simply go up one folder level, use the

icon.



This icon will allow you to toggle between search facet and sibling folder view. If there are no assets contained in your current folder, this icon will be grayed out and you will only be able to view the folder tree. Similarly, if there are no sibling folders but your current folder contains assets, you will only be able to view search facets.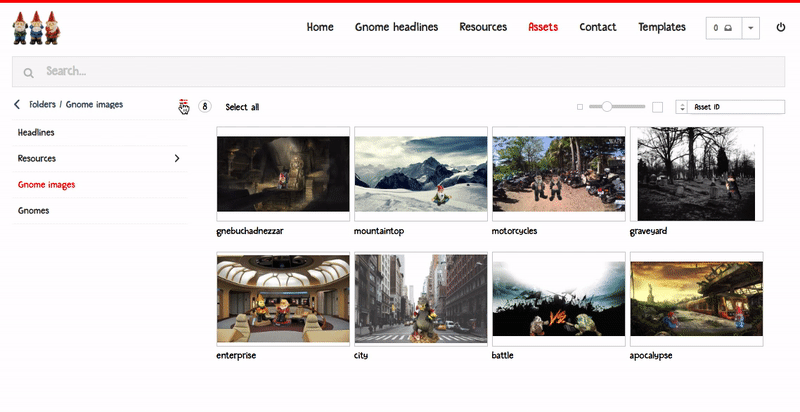 An asset count for the gallery you are currently viewing. This number will adjust if you apply any search facets.



This button will select all assets in the gallery; the number of selected assets will equal the asset count to the left of this icon, with search facets applied.
2. Gallery actions: On the left is a slider that allows you to adjust the size of each asset in your gallery. On the right, a drop-down menu will allow you to choose which attribute your gallery will be sorted by; the order may be reversed by clicking the

icon to the left of the drop-down. To filter through available attributes, simply use the top line of the drop-down and the available attributes will narrow as you type.
3. Search facets: Search facets are useful for filtering your search results. Facets are displayed in bold and can be collapsed or expanded by clicking on the arrow button next to their name. Facet options are displayed with a count of the number of assets for which that facet applies. Facets can include system data such as an asset's size or import date, or attributes that have been written by your NetX administrator. To remove a facet, click the x next to the facet you wish to remove.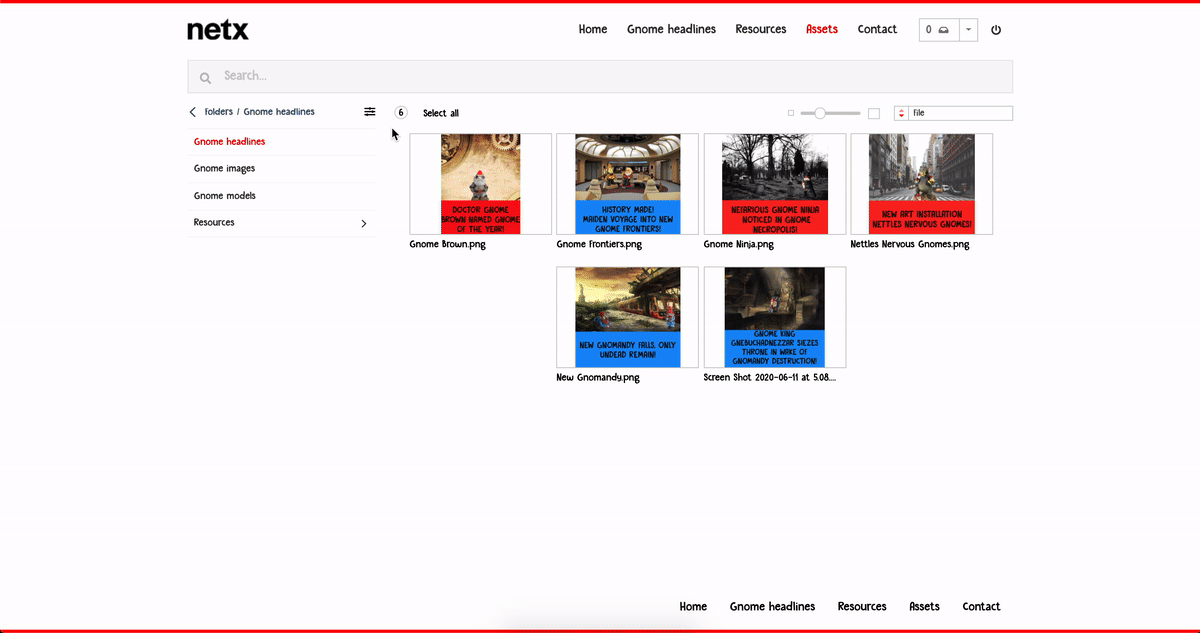 4. Hover actions: Hovering over an asset will reveal certain actions including select, download, share, and view asset. If your user does not have permission to perform any of these actions, these icons will be disabled.
Actions
Select
Clicking the plus-sign icon while hovering over individual assets will begin or continue an asset selection. This allows you to customize a gallery, collection, download, or share action with a variety of assets from a variety of contexts (user level permitting). Upon your first asset selection, a selection action bar will appear at the foot of your window:

: This will remove all assets from your current selection.

: The current asset count for your selection.

: Will open a gallery of your selected assets.

: Allows you to download your entire selection in one action. This will create a .zip file in your browser's default location.

: Collect your selected assets into a re-accessible gallery which may be for personal use or shared with other users in NetX.
: Share your selected assets as a link that may be accessed by external NetX users.
Create PDF: Create a PDF of your selected assets. This option will be available from the

overflow menu.
Export attributes: Export attributes from your selected assets. This option will be available from the

overflow menu.
View asset
View asset will navigate you to the hovered asset's detail page. There you will be able to view the asset's attributes, perform certain actions, and zoom in on the asset in question if the asset has a zoom view.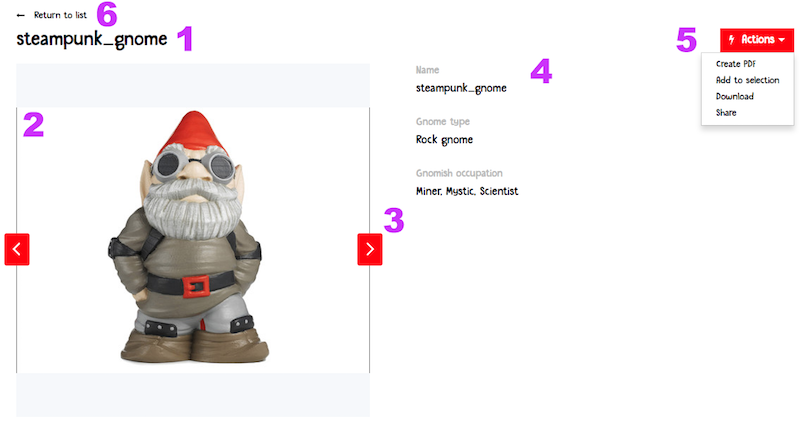 The Name of the asset will appear here.
If your asset has a zoom view, hovering and clicking the asset preview will zoom the asset in question. For documents, such as PDFs, this will open a document viewer.



The arrows on either side of your asset preview will scroll through assets in your current gallery context.


Any permitted attribute data associated with the viewed asset will appear here. The attributes and content of these fields will be determined by your portal administrator.


There will be a drop-down button marked Actions from which you can create a PDF, select the current asset, download, or share the current asset. Note that the actions available here will depend on the permitted actions associated with your user.


Return to list will take you back to the gallery context you came from.
Document viewer
Documents, such as PDFs, will open a special zoom view which will allow you to paginate through the selected document using a scrollable footer bar, search document content, zoom on individual pages, or quickly jump to specific pages.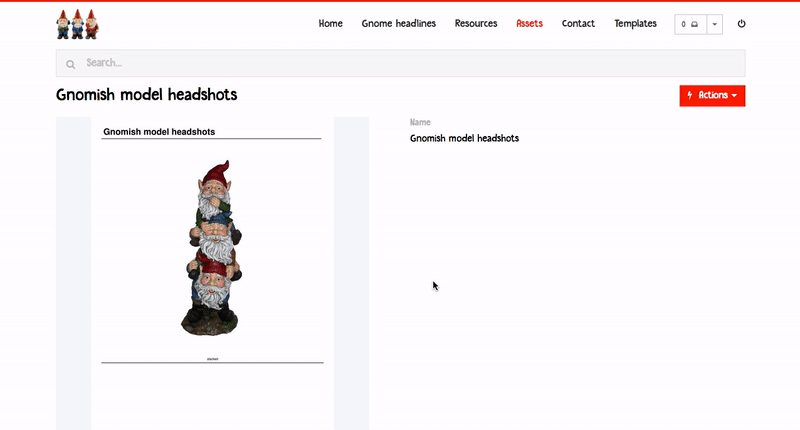 Related assets
Some assets may be have been linked by your portal administrator; if your currently viewed asset has such linked assets, they will be found beneath your asset preview in a gallery titled Related. These related assets will have hover actions available, as well as the ability to place all of them into a selection using the Select all icon.

Download
To download assets and derivatives, initiate a Download action.
In the Download options window, select the size of the download (original size, preview size, or thumbnail size), or download any presets your portal administrator may have provided. If you have questions regarding any of these presets, contact your portal administrator for details. Some of these options may vary depending on asset type; e.g. an audio asset will have audio presets rather than image presets.
Click Download to begin your download. If you select multiple download options or have arrived at this window from a selection, your download will be a .zip file in your local computer's download location.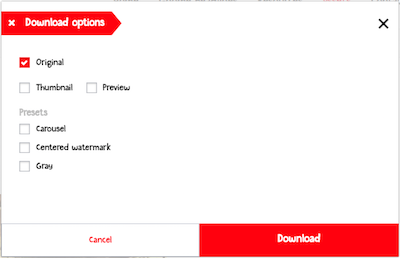 Share
Selecting Share allows you to generate a share link, from which non-NetX users will be able to download the chosen asset(s):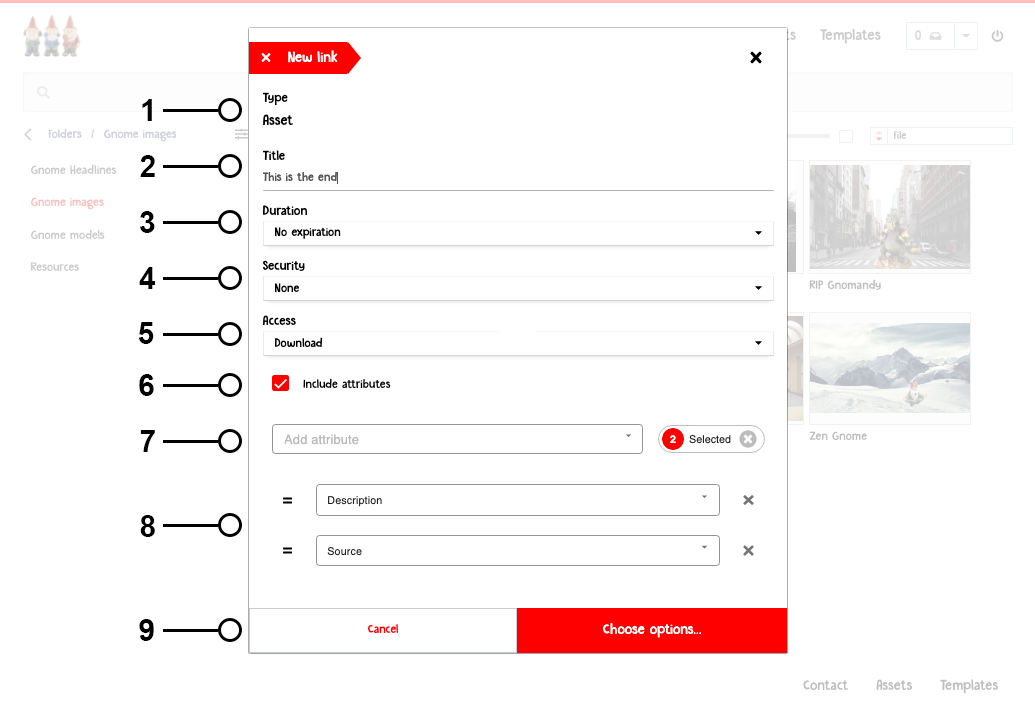 Type: Reflects what is being shared such as a selection. In this case an Asset is being shared.
Title: Title your share link. This title is displayed at the top of the share link landing page.
Duration: Select a duration period; this will determine for how long or how many uses the link will be accessible for. An expiration date selection will allow you to choose a date from a calendar picker, and the date in question will be inclusive. Similarly, the number of uses option allows you to choose the number of times your link may be accessed (also inclusive).
Security: Choose whether or not your link is password protected.
Access: There are two access options, Download and View only. If you would like anyone with access your share link to be able to download asset originals, select Download. If you want those with with link access to only be able to preview these shared assets, select View only.
Include attributes: Check this box if you want attribute data to be displayed in the link itself; if checked, you will be able to customize these attributes. The name, file type, file size, and information regarding any shared assets (such as a video's duration) is shared by default whether or not this box is checked.
Add attribute: Clicking this field presents a dropdown menu of available attributes. Typing into the field will narrow attributes by your filter terms.
Attribute list: Once added attributes can be reordered using their drag handles, edited by selecting the attribute itself, or removed entirely with the X icon.
Cancel / Choose options: To choose which download options will be available from your share link, click Choose options. To cancel without saving your link settings, click Cancel.
Lastly, your link may either be copied to your clipboard or emailed to a recipient.
The link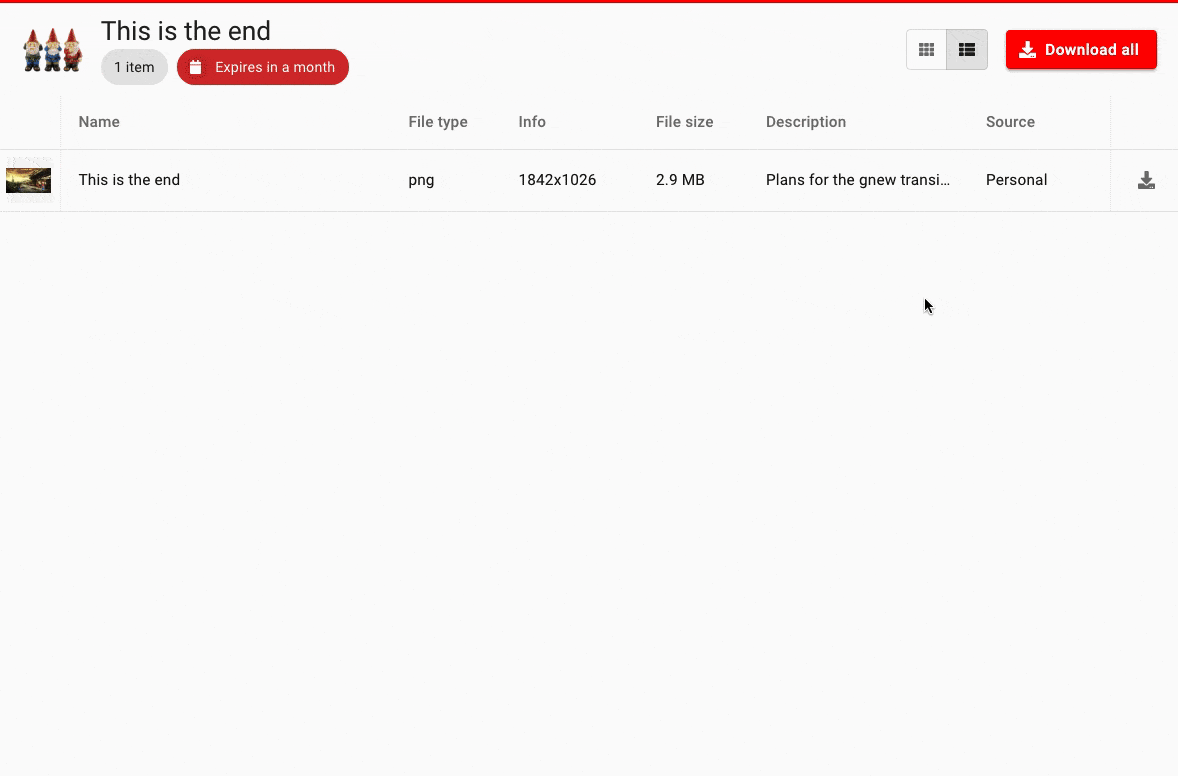 Using the share link you will be able to:
View available assets using gallery or list view.
View any attribute data included in the share link for the shared assets. This can be done while viewing the gallery in list view, or by previewing an individual asset. The name, file type, file size, and information regarding any shared assets (such as a video's duration) is shared by default.
Preview individual assets by selecting them from either gallery view. Note that only file types with previews such as images, videos, and audio. Note that documents such as PDFs may not be previewed here.
Download individual assets and any included derivatives while previewing them.
Download all assets as well as any derivatives which may be included with the Download all button along the top-right of the window.
Create PDF
A selection of all attributes or an existing attribute set will only include the first ten, five, or three attributes (depending on your chosen grid option), even if the attribute set has more than this number of attributes. You will be able to preview these attributes before your final download or share action, and customize any attributes from the set once selected.
When you choose the Create PDF action, you will be walked through a multi-step process to configure your PDF:
Choose whether your asset or selection to be converted into a PDF should be downloaded immediately or turned into a share link.

You will be given three formatting options for your PDF: a 1x1 grid of assets with a maximum of ten included attributes, a 2x2 grid of assets with a maximum of five included attributes, or a 3x3 grid of assets with a maximum of three included attributes.

An option title for your PDF; note that if no title is included, the default will be PDF Contact sheet.

Configure which, if any, attributes you would like to include. These attributes will appear beneath each asset, according to the grid selection you have chosen. You may either select attributes individually by clicking into the Add attribute field and selecting an attribute, or use an existing system or user attribute set. Any chosen attribute set will still allow you to edit individual attributes. Selecting attribute data is not required.

Choose whether or not the attribute names will appear alongside the attribute data using the checkbox beside Display attribute names.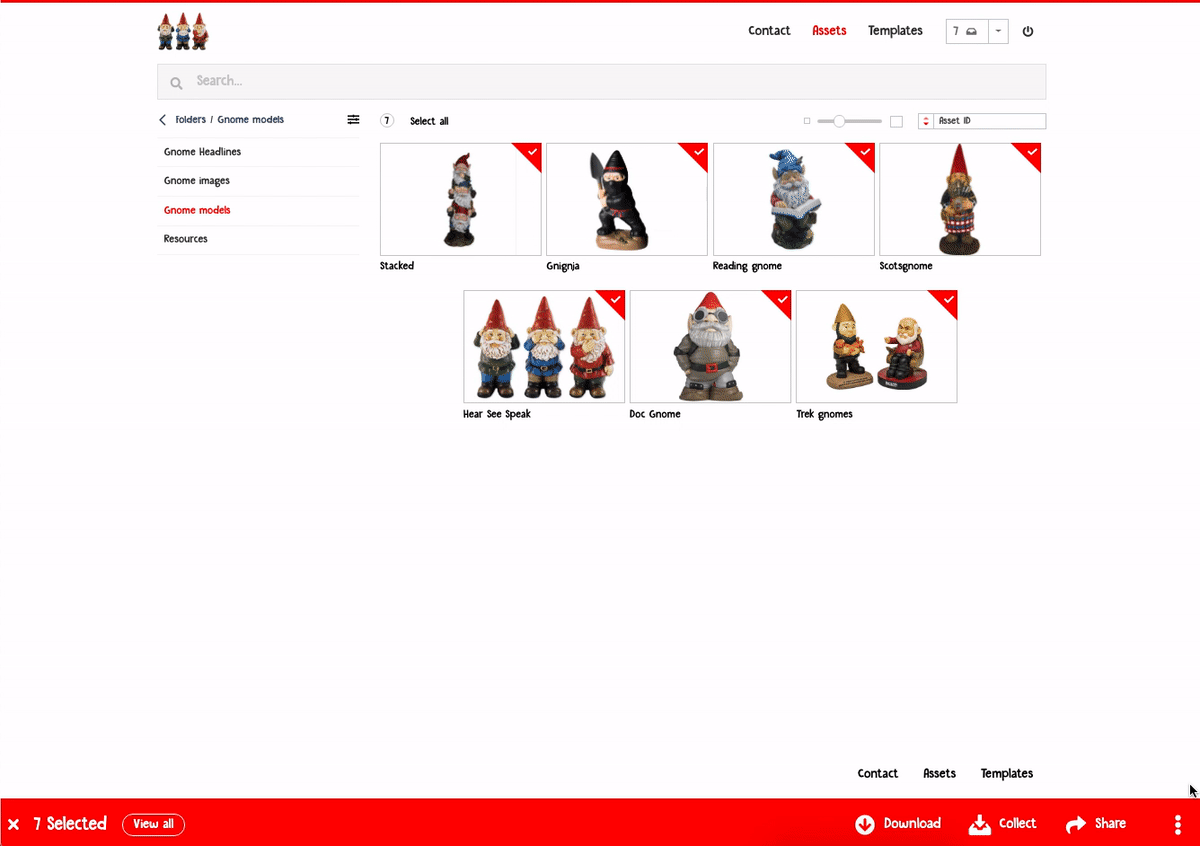 Export attributes
Users with appropriate permissions can download or create a share link a CSV of attribute data for a single asset or selection of assets.
To export attribute data, choose the Export attributes action for an asset or selection.
You may either select attributes individually by clicking into the Add attribute field and selecting an attribute, or use an existing system or user attribute set. Any chosen attribute set will still allow you to edit individual attributes. Additionally, you may remove an attribute from your download options via the x along the righthand side of each attribute. If there are no attribute or attribute set selections, all attributes will download.
Once you have customized your attribute data to your satisfaction, click the you will receive a file named metadata.csv to your local download location.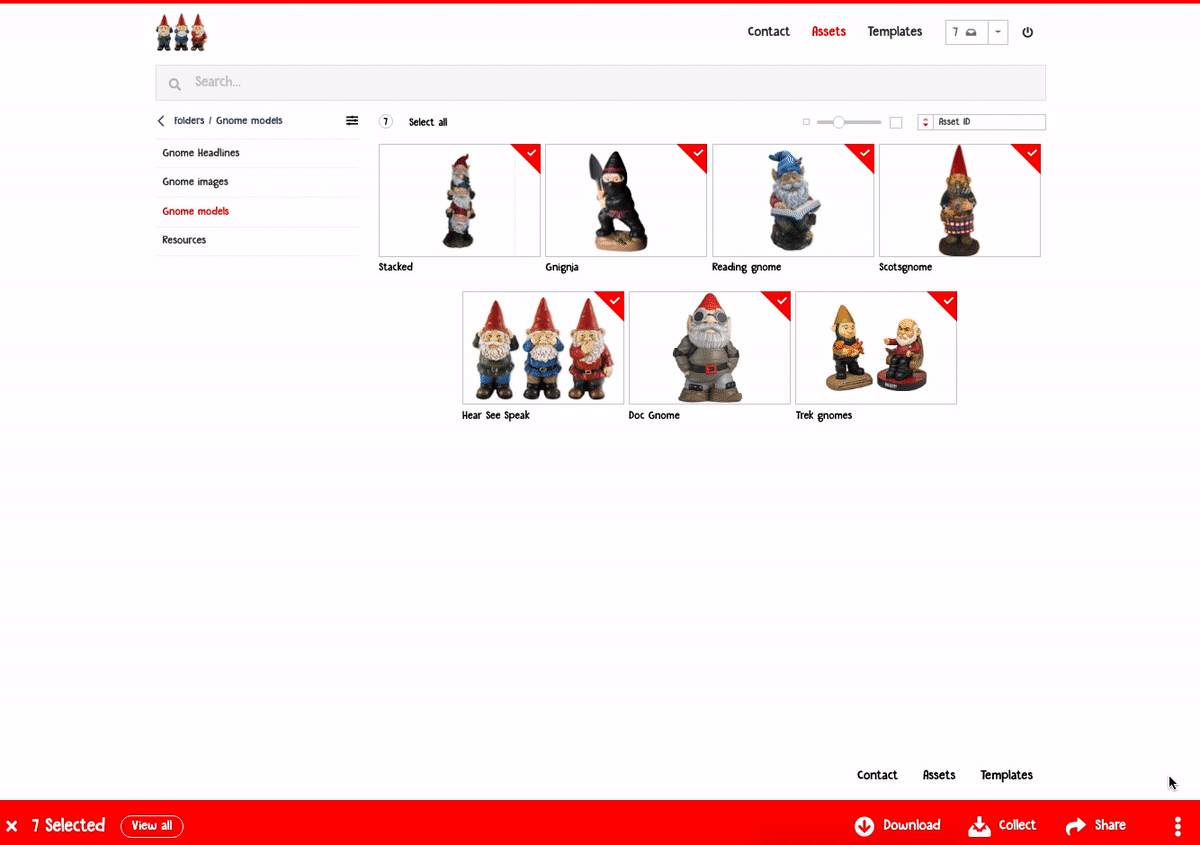 Collections

Collections allow you to create custom galleries of assets across a variety of contexts, which will be accessible for later use across your user sessions. These collections may be kept for personal use or shared by you or your colleagues. Note that all users, regardless of user level, are able to create or share these collections from any permitted assets.
Collecting assets
To create a collection, begin selecting assets you wish to collect. Once you have selected your assets, choose

from the selection bar. To create a new collection, select Create new collection from the subsequent modal. Give your new collection a name, and it will automatically populate with your existing collections.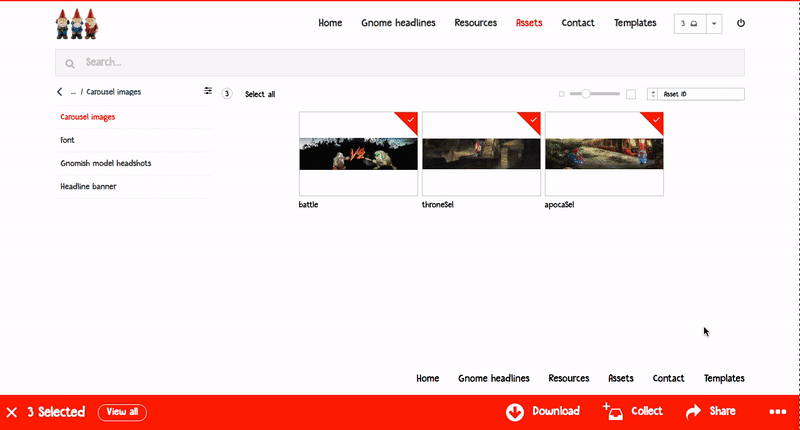 Adding to a collection
If you would like to add your selection of assets to a preexisting collection, simply choose Add to collection from the window after choosing a Collect action from the selection bar. You will be able to either search for the correct collection from the top input bar, or select a collection from the lower list. Note that you can choose more than one collection to add assets to at once, and a running list of collections you are currently adding to will appear in the middle block as tags. These tags may be removed with the x icon.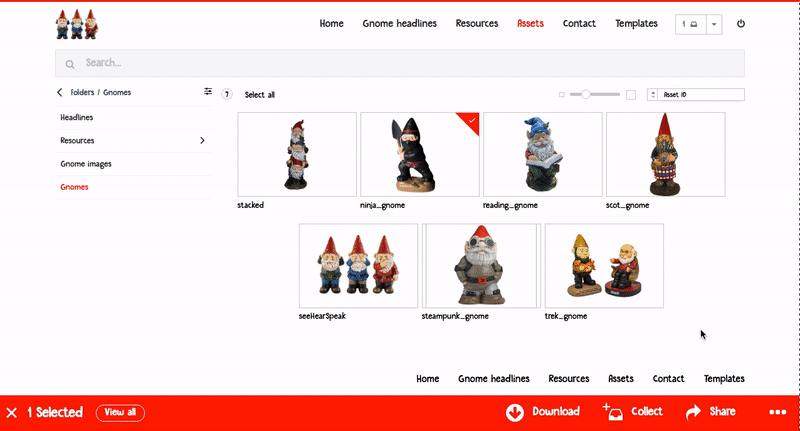 Accessing collections and the collections gallery
You can access your personal collections, as well as any collection which is shared with you, via the drop-down icon located with your portal's navigational header: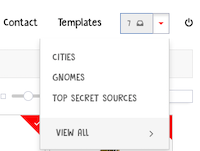 Selecting any collection from this context will take you to an asset gallery consisting of all assets included in that particular collection. View all will show you to a card gallery of your private and shared collections, from which you can perform certain actions depending on your given role for a collection but may include download, delete, or share (internally or externally).

Sharing collections
Depending on your user role, you may be able to share a collection with other internal NetX users in addition to creating share links of the assets in a collection.
To initiate an internal share action, use the icon located from the card gallery of all of your collections. If you have permission to share the collection, you will see a Share with team option; select it.
From the subsequent window you will be able to select individual users, groups, or all users to be given access to your collection. If selecting individual users or groups, begin typing into the righthand drop-down field to populate a list of relevant users/groups; when the correct option appears, select it.
Next, you may choose the roles each permitted user(s) field will have. A list of participants will populate as you add fields; each participant listing will allow you to edit roles or delete the participant from the collection entirely. You may also choose to send a custom message with your share action, which will send along with an email notifying your shared users of their new collection. Note that the last manager participant field will not be deletable or demoted, though you may assign a new manager to the collection and either demote or remove yourself.
When you are finished adding participants, click Done to close the window.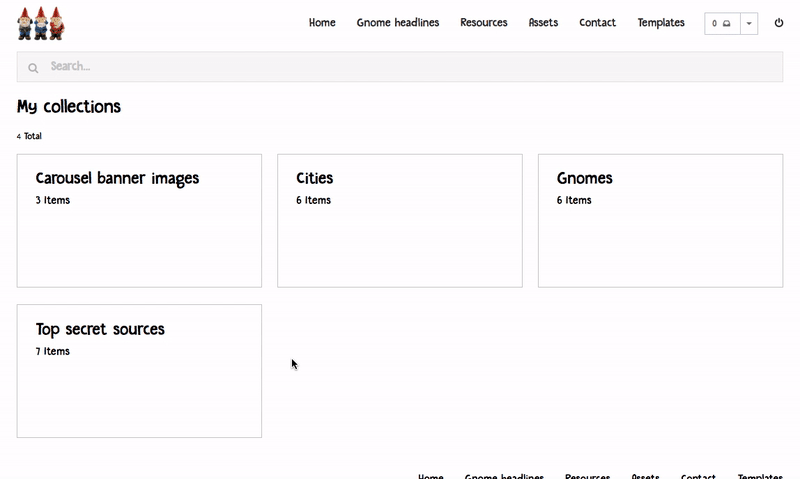 Roles
Viewer: Viewers are able to view the collection and access basic functionality such as download, external sharing, or creating a PDF. They will not be able to add or remove assets from the collection, share internally, or delete the collection.
Contributor: Contributors will be able to perform all of the same actions as a viewer, but may add or remove assets to the collection. They will not be able to share internally or delete the collection.
Managers: Managers may view, add or remove assets, share internally, and delete the collection in question. Upon creating a new collection, you will automatically be given a manager role. Note that the last manager may not be deleted or demoted, but you may add a new manager and delete or demote yourself.
Content blocks
In addition to asset galleries, administrator-created pages will have a variety of content including individual assets, carousels, preexisting collections, folder selections, folder galleries, or general HTML content. This content may differ from the content you may see in the assets tab, but will still be subject to any permissions which may apply to your user account.
Asset
There may be content consisting of a single asset. This asset may only be present as is, but also may include hover actions, a title, or a customized URL.
Carousel
Carousel content will cycle through a pre-selected number of assets in five-second intervals. To manually tab between carousel assets, simply use the navigational arrows beneath the carousel content.

Collection
Collection content will appear as a series of thumbnail-sized assets, each with hover actions.

Folder
Folders icons may appear, allowing you to view the folder's content in a gallery. Folder icons may appear with a custom image, description, or be placeholder folder icon.

Folder assets
Folder asset blocks will appear in an icon gallery and may include a title, the names of the assets, and whichever hover actions your portal administrator has allowed on these assets. Sizing of these assets may differ from a thumbnail size.

HTML
HTML content, unlike the other potential content elements, will be divorced from content stored within NetX. This content may be highly variable and personalized by your portal's administrator, and may be a combination of text, media content, and links to external sites.
Link types
Your navigational header may include a variety of other content created by your portal administrator. These could be a combination of individual assets, folders (much the same as the assets tab, other pages, or external URLs.
Asset
An asset link will take you directly to a pre-ordained asset's detail page.
Folder
Folder links will appear as a gallery with identical features to that you will find in the assets tab, though will not be restricted to the folder tree contained in the assets tab. You will be able to view child folders (permissions allowing), but the top-level folders breadcrumb will take you to the top-level folder structure from your assets tab.
Page
Pages will be assembled by your site's administrator, and will be made up of various content blocks. An example of an administrator-created page is your portal's homepage.
URL
Some of these links may direct you to external websites. After clicking one of these Links, you will be navigated to the new site.
AdBuilder
If your company purchases NetX's Ad Builder product, one of the tabs you will find in your navigational header will be titled Templates. This page will show any Ad Builder templates configured by your Portal's administrator, and is explained in detail here.