Hootsuite is a social media management service that can be integrated with NetX, allowing you to post NetX content from Hootsuite directly.
Before you begin
A Hootsuite account is required to use this integration.
Only png, jpg, and gif file types are currently supported for use with Hootsuite.
To authenticate your Hootsuite account with a SAML NetX account, sign in to your NetX account in the same browser before installing the NetX media library app. When installing the app, you will then be prompted to grant Hootsuite access in a separate browser window.
The ability to search and place assets from NetX into Hootsuite is subject to user permissions.
Only one NetX account per Hootsuite account is supported. You can change the user associated with your Hootsuite account, but if multiple NetX users wish to use the Hootsuite integration, we recommend that a generic user is created to manage NetX-based social media content.
You must uninstall and reinstall the NetX media library app before authenticating with a new NetX user. Uninstalling the NetX media library app will not revoke permissions to NetX — you must do this manually.
Connecting Hootsuite and NetX
Access the NetX Media Library app in Hootsuite's App Directory: apps.hootsuite.com/apps/netx

Click Install, if you haven't logged into your Hootsuite app will be prompted to do so. When taken to the NetX app listing, click Install again.
You'll receive a prompt when the app is successfully installed, click Finish to close it.
Use the notepad button along the left menu bar to begin a new social media post.
Click Browse your media library.
Click the media library menu (by default this menu will read Free images) and select NetX Media Library.

A browser window will pop up, enter the full URL of your NetX instance, including https://. Do not add a /saml/netx suffix even if you ordinarily authenticate via SAML.

Log in with a designated NetX account.

Once logged in, a prompt will appear requesting access to NetX on behalf of Hootsuite. Click Allow to connect your Hootsuite and NetX accounts; this allows you to view and post any supported assets the user has access to.
Using Hootsuite with NetX

Once the NetX integration is installed and authenticated, assets can be accessed through the media library. The media library will display all folders the current user is permitted to view, though any unsupported asset types (such as video or audio files) will not be visible even if the current user has permission to view them in NetX — this restriction also applies to administrators.
Posting NetX content
Click on the notepad icon along the lefthand menu bar in Hootsuite.
Choose the social media account.
Click Open media library.
Use the extension header and choose the NetX Media Library.
Find the asset(s) you would like to post. You can view assets by browsing through folders or using the search bar. The search bar will filter results only within the folder you are currently viewing — to search within all folders, make sure you perform the search while viewing the top level of NetX.
Select the asset. Note that some platforms may support multiple images in one post, which may be queued up under the Media section of the window. If you would like to use Hootsuite's native image editor to alter the image before it is posted, click Edit image under the queued file.
Add text content (if desired).
Click Post now. If you would like to schedule a post for a later time, click Schedule for later to set a date and time.
Some social media platforms have file size limitations for posts. In this case, an error will appear. To reduce your file size, simply click the Edit image button and Hootsuite's native image editor will automatically resize the image by reducing its pixel count.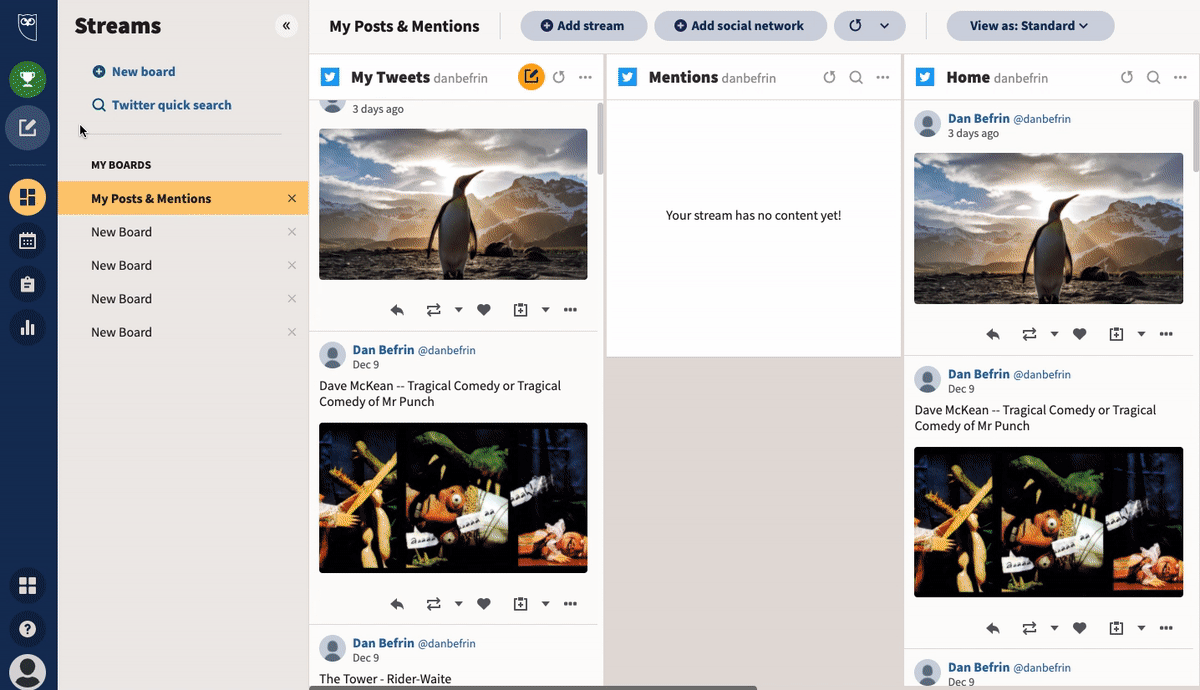 Uninstalling the NetX media library app
Log in to Hootsuite and launch a new post.
Click on the media library dropdown, find the NetX Media Library entry and click Uninstall.
After uninstalling, revoke access to your account in NetX.